It's already December and the holiday season is here. After you're done asking yourself where has 2015 gone, it's time to think about what gifts you can get for that special poker player on your list. Well, you've come to the right spot because the PokerNews Gift Guide has 10 great gifts that are easy to purchase with just a few clicks so you can get back to sipping some hot chocolate in front of the fireplace.
1. Custom ProCaliber Poker Table
Whether you're having a family game night or poker night with friends, play in comfort and style with a custom table from ProCaliber Poker.
ProCaliber gaming tables are built to last, using only the best materials. You may use the company's custom table builder app, and with a few clicks, you can design your perfect table. You can select from different table variations, customize with imprints on casino-quality gaming suede, and include several additional accessories to make your table truly your own and stand out from the rest.
Many sports personalities, professionals, and discerning customers look to ProCaliber Poker when choosing a gaming table that their friends and family will enjoy for many years. ProCaliber has everything you need to make your next game night the envy of all your friends, with the best selection in ceramic and composite poker chips, Copag playing cards, and, of course, the best poker tables available.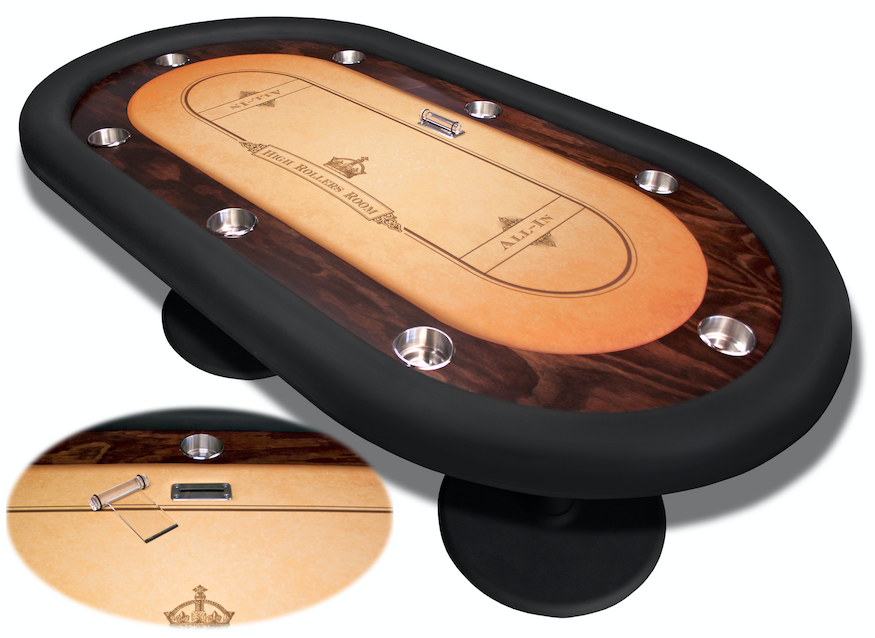 Click here to visit the ProCaliber Poker website and start building your custom table today!
2. Seminole Hard Rock Hollywood Gift Card

In most places, the holiday season comes with cold weather. What better way to help your loved one get warm than a Seminole Hard Rock Hollywood gift card that allows them to experience the beautiful weather of Hollywood, Florida, and take in all of the gaming and entertainment that they'd like?
Everyone is different, but thankfully Seminole Hard Rock Hollywood makes that nice and easy on those of us buying gifts because they offer gift cards, that can be sent by email or standard mail. The gift cards can be used towards hotel stays, dining, spa, entertainment, and much more at Seminole Hard Rock Hollywood. That takes some ease out of the shopping decisions for you and allows the receiver of the gift plenty of options as to how they spend it.
Gift cards are available online in any value between $10 and $1,000. E-gift card orders are limited to $250.
For more information or to purchase a gift card, please click here.
3. Advanced Poker Training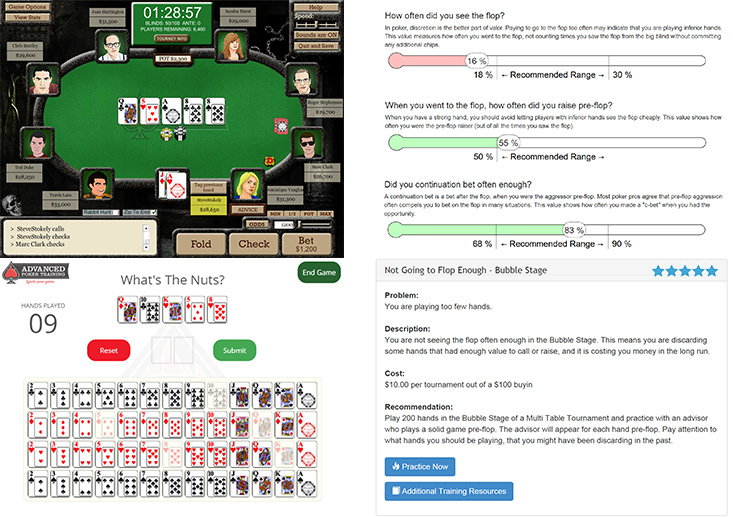 Give the gift of winning poker to your loved ones or to yourself!
AdvancedPokerTraining.com is the #1 poker training site, with over 10,000 members from 27 countries since 2009. Plus, it's the only site with scientifically-proven teaching methods.
Train for full-ring, six-max, sit-n-gos, or multi-table tournaments, learning while you play up to 500 hands an hour, get real-time advice, take the unique "Beat the Pro" challenges, or study your training plan and visual reports.
But, don't just take our word for it.
According to AdvancedPokerTraining.com member Chris McCarthy, "The MTT trainer was a great help in cashing at the WSOP Circuit events. I made back-to-back final tables. The goal is to win a WSOP bracelet or WSOP Circuit ring. I think I'll do it with training on APT. Being able to set the skill level of the players and parameters of the game is great."
Head to AdvancedPokerTraining.com, click the "Gift Cards" icon at the top of the page, and purchase some Advanced Poker Training for the poker player on your list.
4. T-Shirts from Fresh Clean Tees

It's no secret that poker players enjoy convenience. Here at PokerNews, we also know they like playing the game as comfortable as they possibly can. That often involves wearing nothing more than a t-shirt at the tables, and how many of you know a poker play who could benefit from a fresh selection of tops on a regular basis?
Enter Fresh Clean Tees — a men's subscription box service that offers a variety of simple, fresh, high-quality t-shirts that are both affordable and comfortable.
With Fresh Clean Tees, you receive three shirts delivered to your door based on your style, saving you hundreds of dollars a year compared to retail. You pick the style, the color, and the size, then Fresh Clean Tees makes it happen from there.
To make the deal even sweeter, Fresh Clean Tees is offering 15 percent off the first shipment if you purchase using the code "POKERNEWS." Check 'em out today at FreshCleanTees.com.
5. World Series of Zombies Comic Book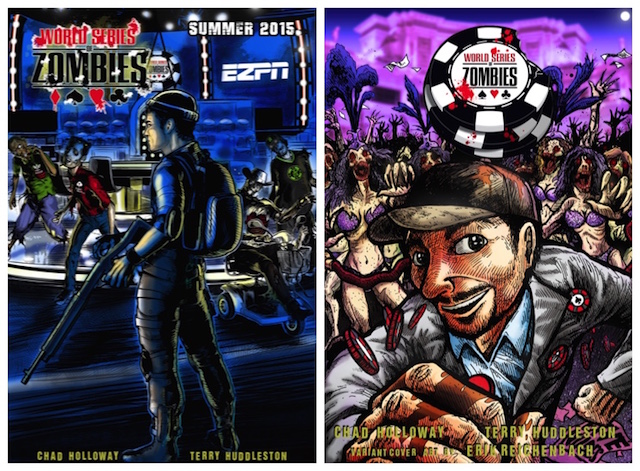 This summer, the poker world was treated to a brand new, one-of-a-kind comic book from PokerNews Managing Editor of World Series of Poker gold bracelet winner Chad Holloway. World Series of Zombies (WSOZ) combines the zombie genre with poker's most prestigious tournament, and the adventure to be had is something every comic collector or poker enthusiast should want to be a part of.
In the comic, Holloway combined his passion for poker and comics into an adventure involving the famous WSOP Main Event that features some of poker's biggest names, including Daniel Negreanu, Phil Hellmuth, Vanessa Selbst, Antonio Esfandiari, Michael "The Grinder" Mizrachi, and Phil Laak.
"Bringing WSOZ to life has been a goal of mine for a long time," said Holloway. "I hope both poker players and zombie fans will enjoy what was designed to be a fun and light-hearted take on poker's premier event."
To order a copy, head to worldseriesofzombies.com.
6. Run It Up Apparel
If you follow poker, then you most certainly know about one of the biggest stars in the game, Jason "JCarver" Somerville, and Run It Up. This is especially true for those of you — or the person on your shopping list — that have an affinity with online poker and Twitch.
Now, thanks to shop.runitup.com, everyone can support Somerville and become a Run It Up warrior!
Just head to shop.runitup.com for a wide selection of apparel, posters, patches, and more. If you're a little caught up on what product to purchase and can't decide, gift cards are also available.
Plus, if you use the promo code "santacarver" then you will receive 15 percent off and there's free shipping on orders over $74.95. That's quite the deal and something you should certainly take advantage of. Trust us, the poker player on your list will absolutely love some Run It Up gear.
7. Performance Sunglasses from Blue Shark Optics
Blue Shark Optics is the leading performance sunglass brand in the poker industry. A pair of these great glasses would make an excellent gift for the poker player on your holiday shopping list. There's several options for poker, plus additional lines for those looking for driving sunglasses or ones for gaming.
PokerNews' resident bracelet winner Chad Holloway is a Blue Shark Optics team member, alongside Chris Moneymaker, Greg Raymer, Jeff Gross, and Jonathan Little, and the glasses come highly recommended. For the poker line of shades, prices start at $129.
For complete listings and online shopping, head to BlueSharkOptics.com.
8. Moorman's Book of Poker, Video
Moorman's Book of Poker, which released a year ago and reviewed here on PokerNews, has received widespread critical acclaim, and is without a doubt one of the year's biggest releases. It's a great book for anyone who enjoys the game of poker, which makes it a great gift option.
Now, we know not everyone enjoys putting in the time to read a book from cover to cover. But, now the book has been released in a video version, which brings Chris Moorman's analysis to life as the exact situation being discussed in each hand is represented at all times on screen. The video book consists of eight videos, with a total viewing time of 8 hours and 17 minutes. The video is voiced by co-author Byron Jacobs, and there is an introduction by Moorman.
You can purchase your copy today by clicking here.
9. Slingbox
For anybody who travels, the Slingbox is a must, and we all know poker players love to travel.
With a Slingbox you can watch your home cable or satellite provider on your laptop anywhere there's an Internet connection. It's ideal for watching local programs like news and sports on the road and also awesome because you can use it for your premium channels and on demand. Slingbox is also quick and easy set up and once it's connected there are no more additional fees. Just turn it on and enjoy.
There are a few different options available for purchase, with prices starting at $100. Slingbox.com for more information.
10. Starbucks Gift Card
It's not always about the physical size of the gift or the price tag that comes with it. In the end, it's the thought that counts, and we know all poker players like a steady flow of coffee, or other drinks and treats, while they're out grinding a long session. That's what makes a Starbucks gift card such a great gift idea for poker players, because there's usually a Starbucks within a stone's throw of any poker room around the world. Plus, we know the coffee inside most poker rooms just doesn't always cut it.
You can give the gift of a Starbucks gift card by mail or email. Do so by clicking here.
Get all the latest PokerNews updates on your social media outlets. Follow us on Twitter and find us on both Facebook and Google+!