The 2015 World Series of Poker is just around the corner, and it's probably long past time for you to figure out where you're going to sleep while you're in Sin City.
But if you've been lazy and haven't booked your accommodations, we're here to help. Plenty of you make the yearly sojourn to Vegas and stay during the entire WSOP. That can get expensive in a hurry, particularly if you're looking to live the hotel life. It's better (and cheaper) to find a monthly rental that you can call home during your stay.
That's where the AirBnb service comes in. AirBnb allows regular, everyday people to rent out their homes. You install the app (or use the website like a neanderthal), pick your location and the dates you want to stay, and then book your perfect location instantly. We used it during a recent trip to Europe, and it works like a charm.
Today, we bring you 5 great Las Vegas AirBnb rentals that are available for monthly rental during the WSOP. Some are on the strip and some are far away, because some of you want to live that Vegas nightlife 24/7 and some of you want peace and quiet.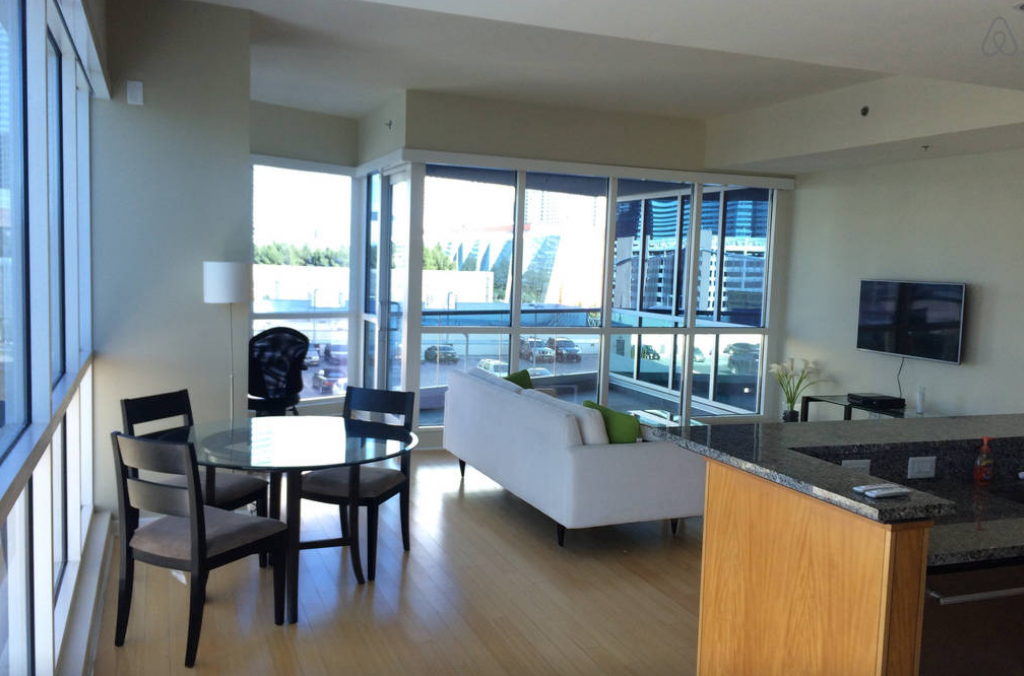 Beautiful Condo on Las Vegas Strip
Monthly price: $8678
Location: Panorama Towers, Dean Martin Drive
Bedrooms: 2
Bathrooms: 2
Accommodates: 4
Located in the Panorama towers off Dean Martin (between Flamingo and Tropicana), this 2-bedroom condo is luxurious and comfortable. And location-wise, it cannot be beaten; you can see the Rio from the guest bedroom. At night, you'll have an expansive view of the strip, but you won't be directly on the strip. Best of both worlds, we say. It's expensive, but you're going to win a lot of money playing poker, anyway, and you can split the costs between 4 people.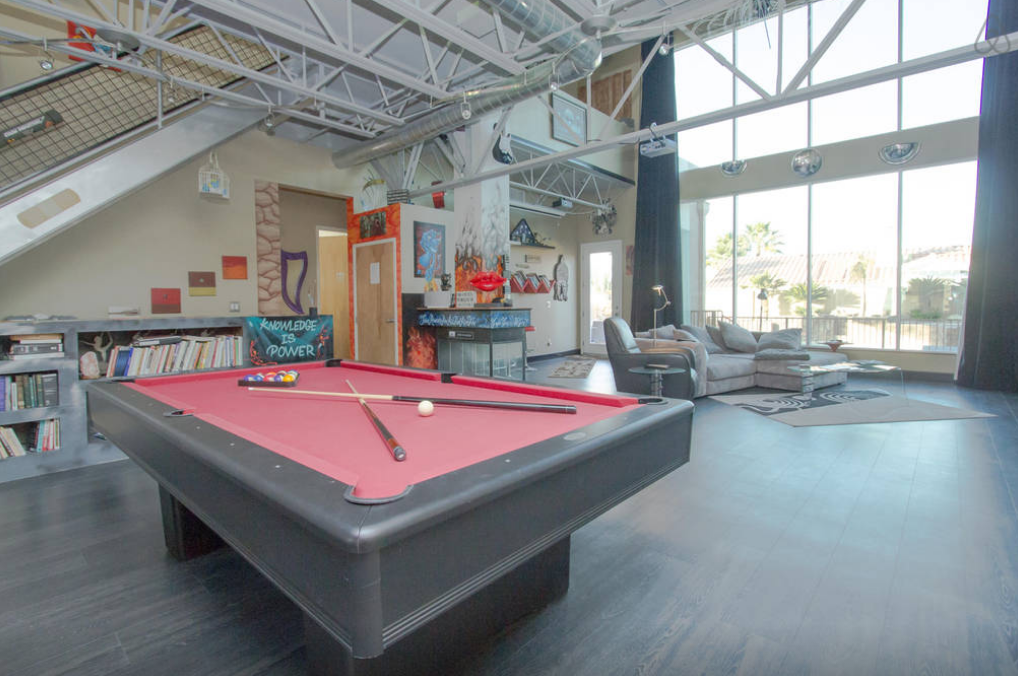 Ridiculous artsy strip view loft
Monthly price: $13,605
Location: Deer Creek Falls Court (Russell/Jones)
Bedrooms: 4
Bathrooms: 2
Accommodates: 10
If you truly feel like living the high roller life, but doing it slightly away from the absurdity of the strip, this incredible condo might be up your alley. There are four bedrooms and it accommodates 10 people, so that might help drive the cost down. What you get for the price, however, is a gorgeous and intensely-decorated loft with a pool table, a pool, and all manner of outstanding decorations.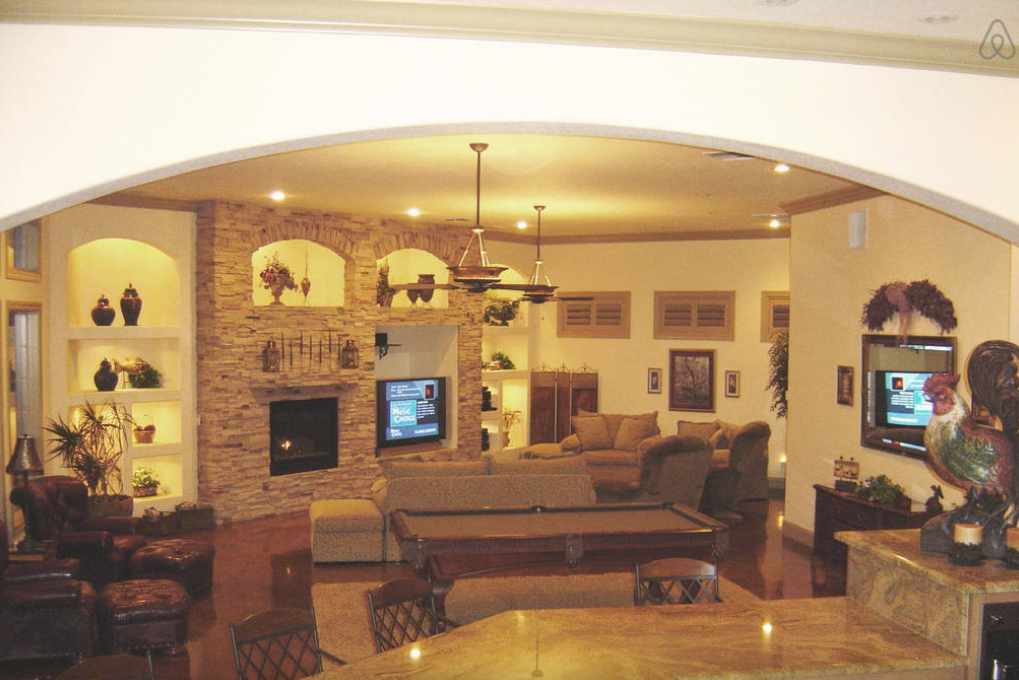 Your very own sanctuary
Monthly price: $10,900
Location: East Oquendo Road (Near McCarran Airport)
Bedrooms: 4
Bathrooms: 5
Accommodates: 10
If our last entry was the cool, hip guy in your circle of friends, this one is the classy and gorgeous British girl who just moved here from London and constantly wows you with her grace and charm. This 8,000 square foot home is designed in the Tuscan style, which is to say there are a lot of fancy decorations and large windows that allow in plenty of light. The backyard pool area is perfect for entertaining.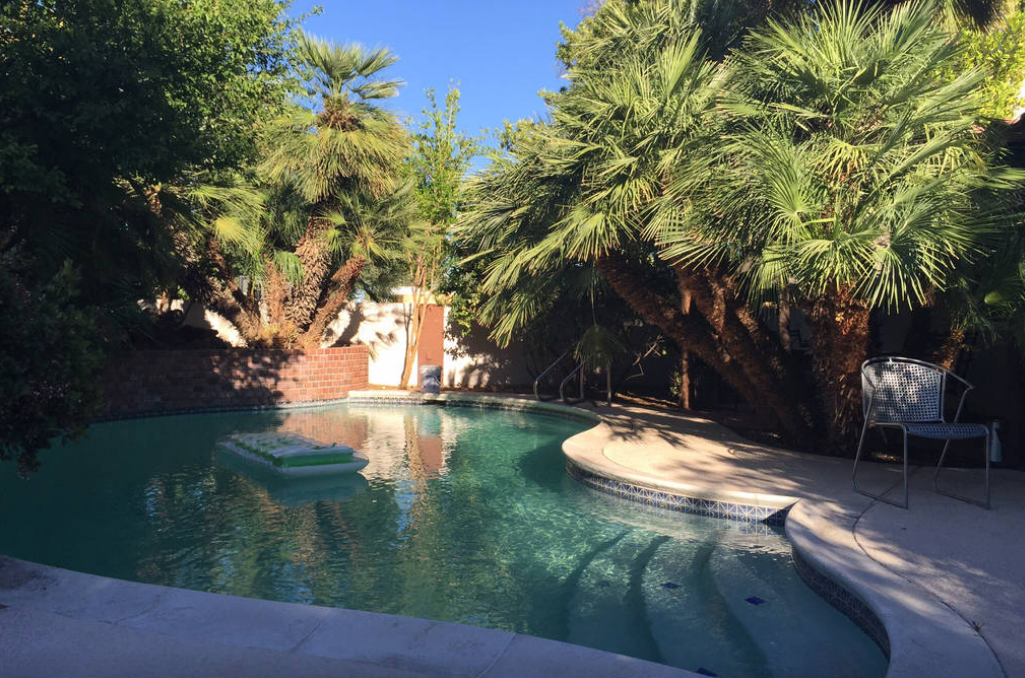 Jungle backyard 5 miles from strip
Monthly price: $6,048
Location: East Twain Avenue
Bedrooms: 4
Bathrooms: 2.5
Accommodates: 13
Do you enjoy spending time outdoors in the ridiculous 112-degree Las Vegas summer? If the answer is yes, what's wrong with you? We're only kidding. Sort of. But we're also looking out for you, because here's a nice home 5 miles from the strip that features a pool in the backyard surrounded by lush, green palm trees. It also accommodates 13 people in its 4 bedrooms, which means you can really drive the price down by shacking up with a bunch of your friends (or random people) for a month.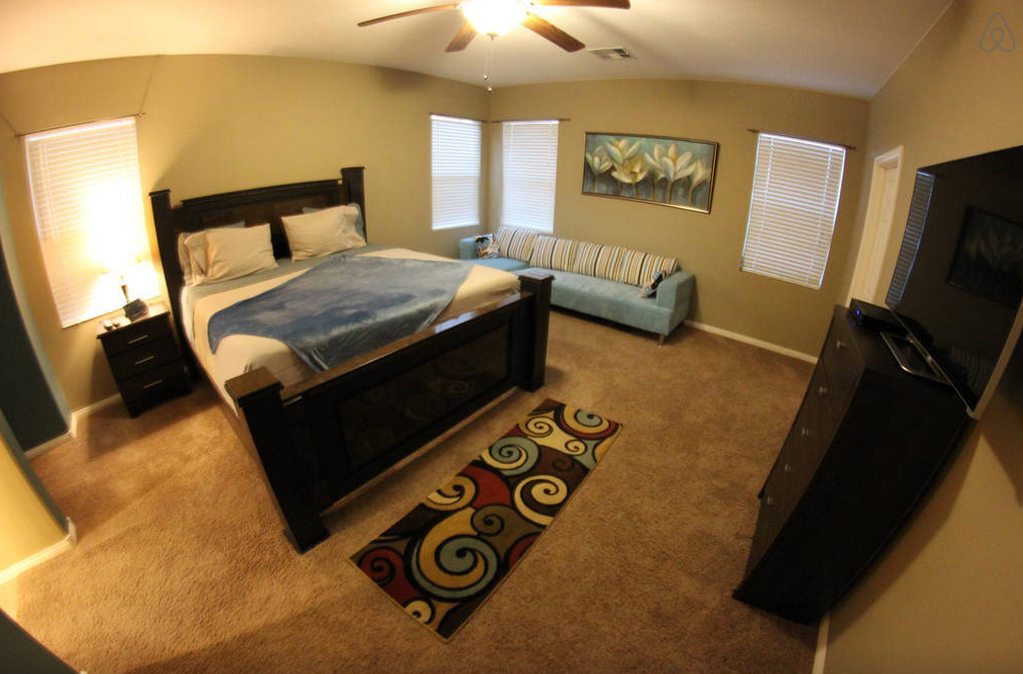 Massive house close to Mt. Charleston
Monthly price: $7,706
Location: Sharp Ridge Avenue (Far north Las Vegas)
Bedrooms: 5
Bathrooms: 4
Accommodates: 11
Are you looking to get as far away from the strip as you possibly can? We don't blame you. We did the same thing when we moved here. This is a large house with 5 bedrooms and even more beds, and it's far, far north. It's so far north, in fact, that it's close to Mt. Charleston than it is to the strip. If you enjoy hiking and actual nature, this house is up your alley.