Sometimes you just have to get away from the Strip, amirite?
Of course you do. Why do you think I live in Summerlin, away from the hustle and bustle and general zaniness of the thriving tourism industry that exists down there?
But not all of you are locals. And sometimes you want to come to Vegas, but you don't want to stay in an overpriced strip hotel, and you really do not want to deal with the crowds and drunk, sad people crying their way from the pool to wherever they though their room was simply because they've been day-drinking since 9am.
I mean, what's not to love about that?
So if you're looking to do Vegas, but you don't feel like dealing with all of the aforementioned things, I'm here to help. Here's a quick and easy guide to some of the best casinos off the Strip in Las Vegas.
You're welcome.
1. Red Rock Casino Resort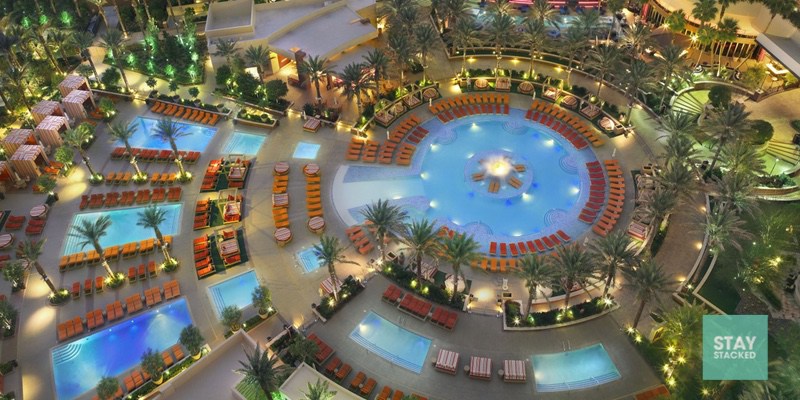 The gleaming centerpiece of the Station Casinos empire is at the corner of Charleston and the 215, and it is excellent. In fact, it is my favorite overall casino in Las Vegas, and that includes all of the sprawling casinos on the strip.
So, yes - if you are looking for a great Vegas casino off the strip - this is the one for you.
Red Rock sets itself apart as a family destination casino.
There is a Regal movie theater with an IMAX screen, a food court, a bowling alley and an arcade for the kiddos. They've even clearly marked (in green) the kid-friendly areas of the casino on signs posted around, showing parents where the kids are safe to roam.
Red Rock also boasts some great restaurants, including T-Bones Chophouse, Mercadito, and the newest addition: Hearthstone. There's also a Yardhouse, which is a personal favorite of mine.
Gambling is cheaper than the strip, too. You'll find $5 blackjack tables 24 hours a day, and penny slots are in abundance.
The pool is nice, especially during summer months when concerts are held outdoors.
And just next door to Red Rock (a short walk across the street) is the new Downtown Summerlin outdoor mall, featuring all sorts of middle to high-end stores like Apple, Michael Kors and more.
2. Green Valley Ranch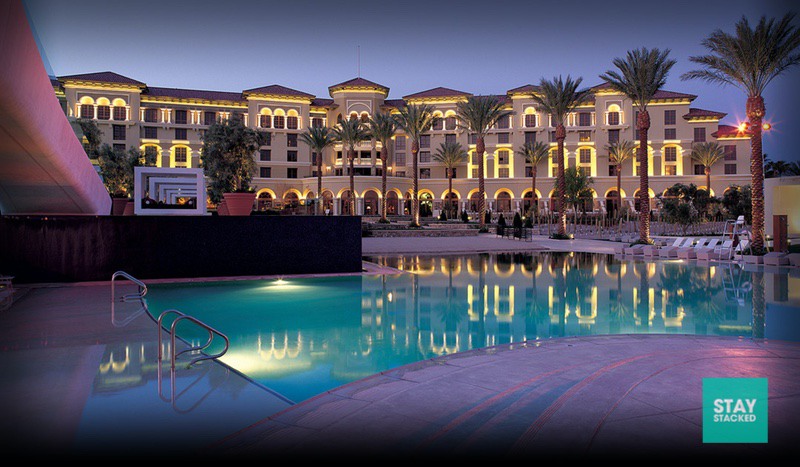 This is another of the featured Station Casinos properties. It's located near Henderson, so it's on the opposite side of the city from Red Rock.
It's a Mediterranean-inspired casino, and looks more like an all-inclusive European resort than a Vegas casino.
The outdoor pool area, in particular, is a gorgeous hallmark of Green Valley Ranch. There are multiple pools, including The Backyard, which features a sand-bottomed pool with beautiful views of the strip.
And then there's The Pond, which is a topless adults-only pool. *Wink.
On the eating side of things, the selection is smaller than Red Rock's, but GVR has good places all the same. Hank's Fine Steaks, in particular, is delicious, and Pizza Rock is a cool pizza joint.
Gambling is roughly the same as Red Rock: you'll find decent prices on Blackjack tables, and there are tons of penny slots.
3. South Point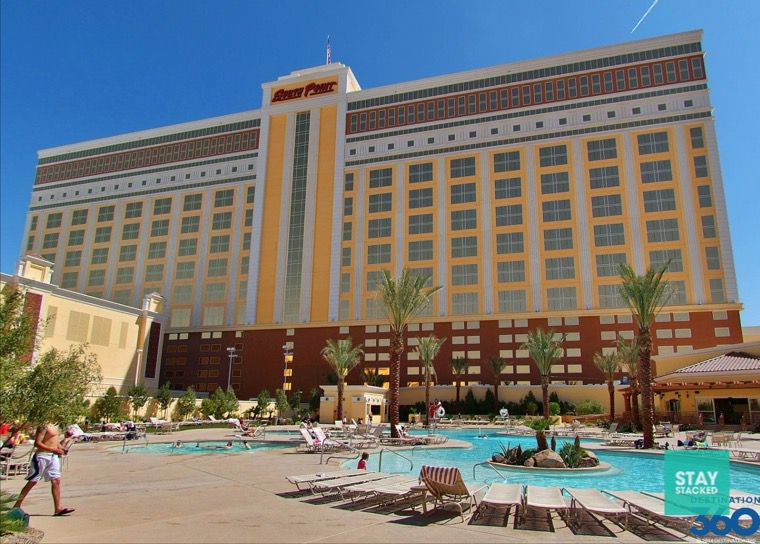 It may not be the absolute nicest casino anywhere in Vegas on or off the strip, but the South Point does have a Steak n' Shake.
It is the only Steak n Shake in all of Las Vegas, in fact.
So if Steak n Shake is your thing, the South Point might just be your new home away from home.
Once you're done ingesting all the shakes your body can handle, of course, there are other things to do at the South Point. The Southpoint arena is the home to many rodeo-related events, and also hosts several United States wrestling qualifiers.
The real stuff, not the John Cena/Hulk Hogan stuff.
In terms of gambling, the best way to put it is this: The South Point is cheap.
There are many penny slots, the cocktail waitresses are usually the same age as your grandmother and they have blackjack machines that allow you to play each hand for 5 cents.
You can't beat that, really.
So if you're looking for a Vegas casino off the strip, but not be TOO far away from the strip—and if you want some good Mexican food courtesy of Baja Miguel's, which has some of the more underrated margaritas in Las Vegas—the South Point is a good option.
4. The D.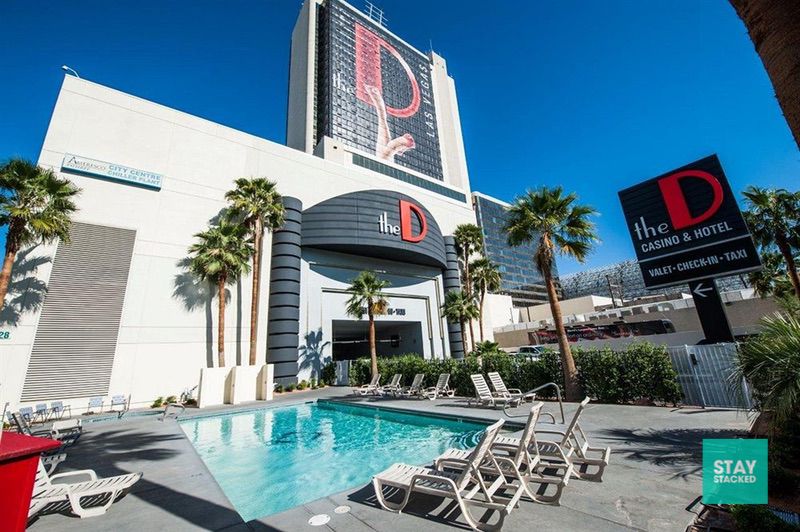 This place used to be called the Sundance and then Fitzgeralds, and in 2012 it was rebranded as The D.
And look, that's an unfortunate name, particularly if you are someone who is perpetually stuck in junior high humor mode (like me).
Nevertheless, this used to be considered the best off strip casino in Las Vegas.
The D is nice. Located at the eastern end of Fremont Street, it features a 42,000 foot casino. And unlike much of Fremont Street, The D was actually renovated at some point in the last 150 years, and it doesn't smell of musty cigarettes and failure.
Not yet, anyway.
The gambling isn't as cheap as you'll find in venues on either side of it, but you also won't feel like you've hit the bottom rung of a ladder that you previously thought was endless.
As far as eating goes, The D features the first American Coney Island location outside of Michigan. We prefer the scrumptious flavors of Buldogis when we're in the mood for a hot dog, but this will do in a pinch (or if you've had too many free martinis and don't want to stop losing all of your money to the friendliest blackjack dealer you ever met).
5. The M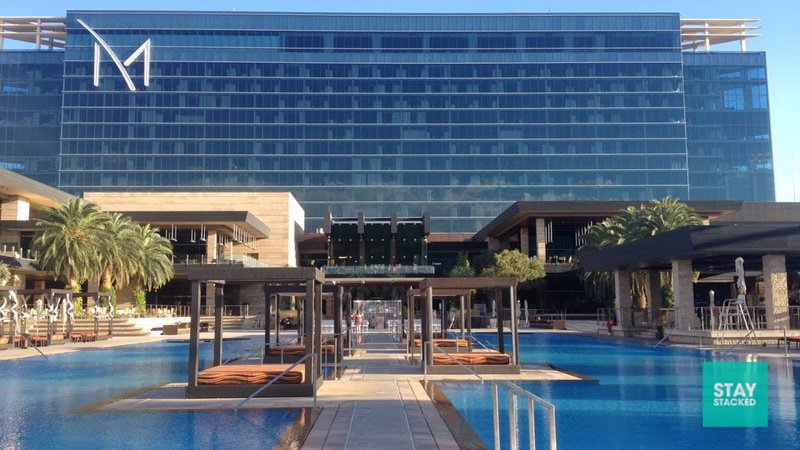 Out near the South Point, but a whole heck of a lot nicer, is The M.
Essentially, this is a gleaming black oasis in the desert, like someone took a much larger strip casino and shrunk it using that ray thingie from that movie with Rick Moranis.
It still features 92,000 square feet of gaming, from video poker and slot machines to every casino poker game you can think of.
There are 5 "destination" bars willing to take your money, and the pool area is over 100,000 square feet of bliss.
Really, the swank rooms and the pool are the best thing about the M. The best thing about the M USED to be the Hash House location there, but it has since closed down, which made me sad.