The start of a new week here at PokerNews brings us the opportunity to give you a new Cash Play, our roundup of the coolest things to buy, watch and download. This week, as our gaze begins to turn towards summer and the miserable heat it brings, we have a look at a movie you can watch indoors, a craft beer subscription for the extremely hipster snob in you and more.
Ex Machina (Theaters)
So we went to see this movie because it has received rave reviews on the internet, which is absolutely the most trustworthy place to find reviews for anything. As it turns out, this was a really great movie...a really great movie that left us terrified for the future of the human race. It centers around a jerk mad search engine genius who creates the world's most advanced artificial intelligence. The search engine genius brings a dude from his company to his private island to essentially perform a Turing Test on the A.I. You can envision how things go from there, because artificial intelligence is terrifying and possibly the downfall of the future human race.
Also, they showed a trailer for the Poltergeist remake, and you can forget about that nonsense right there. The original was scary enough, and now they have special effects!
Still, this is a movie you should see, if only to cement the notion that artificial intelligence is such a bad idea.
Noble Brewer
We've tried out a bunch of beer subscription services. They're all awesome, because they all deliver beer to your doorstep, and because beer is awesome.
But what separates Noble from the pack is that they're culling together the best beers from some of the world's best homebrewing outfits. In essence, what you're paying for here is a distribution service for awesome home brewing company suds that you'd otherwise never be able to get your hands on.
There are three difference price points starting at $59.99 for one release. That may seem expensive on the surface, but just think about it this way: among beer nerds, you'll be the most hipster beer nerd with a Noble subscription. That's worth any price.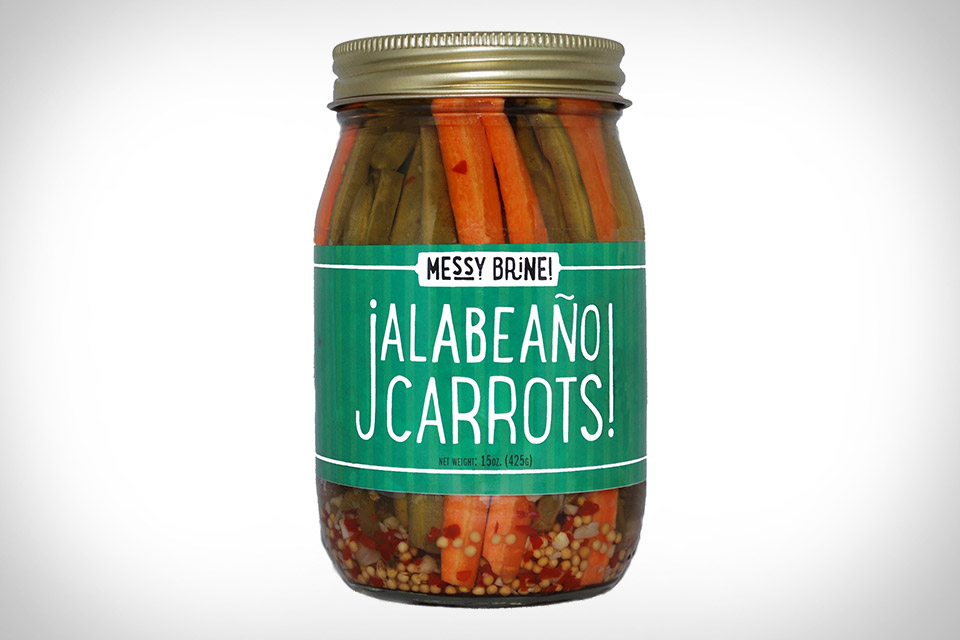 Messy Brine Jalabeano Carrots
If spicy pickles are your thing, then these bad boys will be right up your alley. Each jar contains spicy green beans and carrots, but they're kicked up a notch Emeril-style with crushed red pepper, garlic and jalapenos. But, look: don't go get these things and then pretend like we didn't warn you they're hot, because they are.
Also, who doesn't love the name Jalabeano?
Makey Makey Go
Kickstarter was absolutely created for stuff like this: Makey Makey Go is a USB stick that allows inventors to turn anything into a button. And yeah, that seems mostly useless, unless you realize that you could turn that chocolate chip cookie you brought to the poker table into a button that makes your computer scream YEAH BABY in the most obnoxious manner possible whenever you touch it.
Seriously. That's a thing it can do.
2016 Dodge Viper ACR
Here's something you may not have known before reading these words: the Dodge Viper is still a thing. That most ridiculous and pure MERICAN of American muscle is still going strong, and the 2016 version is the fastest street-legal Viper ever made. It sports a V10 that produces 645 horsepower, which is just plain stupid. This, essentially, is what happens when you take a track-only car and allow people to drive it on the road.
Corkcicle ArcticCan
Unlike in Game of Thrones, where winter is perpetually coming (it's probably time for those people to move to a new climate, one that doesn't have the threat of cold year round; that's just our two cents), summer is either here or approaching, depending on where you live. In fact, we're currently writing this from the friendly confines of the side of our pool in Las Vegas, even though this week will see temperatures drop to 60 degrees in May. And yet there's no such thing as global warming, right? Ha. Seriously. Just, ha.
So summer is approaching, which means you want gimmicky things to keep your drinks cold, because a regular old Igloo just won't do. Enter the ArcticCan from Corkcicle, which is honestly almost impossible to pronounce. But what you get here, aside from an impossible name to pronounce, is a sweet $20 device that keeps your can of beer (or soda, or whatever you prefer) cold even in direct sunlight.