It's Friday, which means it's time for another Cash Play, our weekly look at the coolest stuff to buy, watch and download. Oh, and read: we've got a book in this edition of the Play! Yes, an actual paper book. They still exist.
Let's get started.
HefeWheaties Beer
Beer for breakfast? Most folks will look at you all funny if you suggest such a thing. But the next time you feel like busting out a cold brew to start your day (hopefully not a work day), you should consider this new partnership beer between Generals Mills and Fulton Beer. It's called HefeWheaties, and is available in four packs of 16oz cans, but only in Minnesota at the moment. If demand is there, this beer may see a wider release. There are no actual Wheaties cereal bits in the beer, but there is wheat.
Vinylify
Everybody knows vinyl records just sound better. You don't have to be a music hipster to realize this. And with vinyl making a comeback, what better time for a service called Vinylify?
Here's how it works: You upload your playlist of songs, then create a cover using one of their templates. Once you're done with that, the company will press a fresh record with your songs and send it to you.
Vans Cork shoes
Vans shoes are known for their comfort. The new line of shoes from the company keep that tradition intact while giving them the kind of sweet cork look that's so popular in basketball shoes at the moment. These aren't made from real cork; it's just a pattern. But it looks like real cork while maintaining the shoes' legendary breathability. Rock these on a hot summer day, perhaps on a boat at the lake.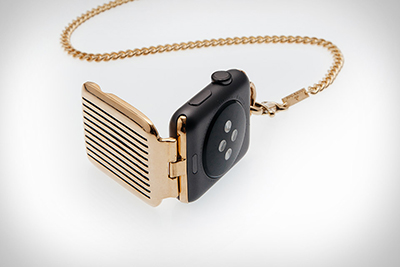 Apple PocketWatch
We weren't high on the Apple Watch when it was released, but we realize some of you went ahead and bought one anyway. If you want an accessory that will turn your watch into something else entirely, check out this Kickstarter project: it turns your high-tech wrist companion into a classic pocket watch.
A Poor Collector's Guide to Buying Great Art
Art can be a lot of fun, and collecting it can make you feel like one classy human. But there are plenty of us interested in art who are actually terrible at identifying what great art actually is.
That's where this book comes in. It will help you avoid buying crap and teach you how to spot great art that you can add to your collection. And no, comic books do not count.