It's beginning to look a lot like Christmas.
Well, it's beginning to look a lot like Christmas in other places, at least. Here in Texas, where we are spending our holiday vacation, it's beginning to look warm and humid and not even remotely a lot like Christmas. It's hard for us to get in the Christmas spirit when we're wearing shorts outside and still sweating.
Which is why we spend a lot of time looking at photos and videos of colder locales and feeling the pangs of jealousy bubbling up inside of us. It may be miserable in Texas, but one look at mountains covered in snow can at least take some of the sting away. What we're saying here is that we spend a lot of time daydreaming about traveling to places with actual snow and actual mountains and maybe some reindeer and hot cocoa? Because that would be nice.
In our imaginary journey, we'd end up at a place like Whitepod. This stunning "eco-luxury" hotel property is quite literally above the clouds in the Swiss alps. Instead of staying in a standard hotel, however, you're staying in geodesic domes with incredible views of the mountains splayed out before you. There are three levels of dome comforts: cozy (AKA small), family and deluxe. There are king size beds and large TV's with Apple TV's hooked up (we're still trying to figure out how they get the internet to the top of the Alps when we can't even keep a decent phone signal in Las Vegas). You've also got wood burning stoves, saunas and much more.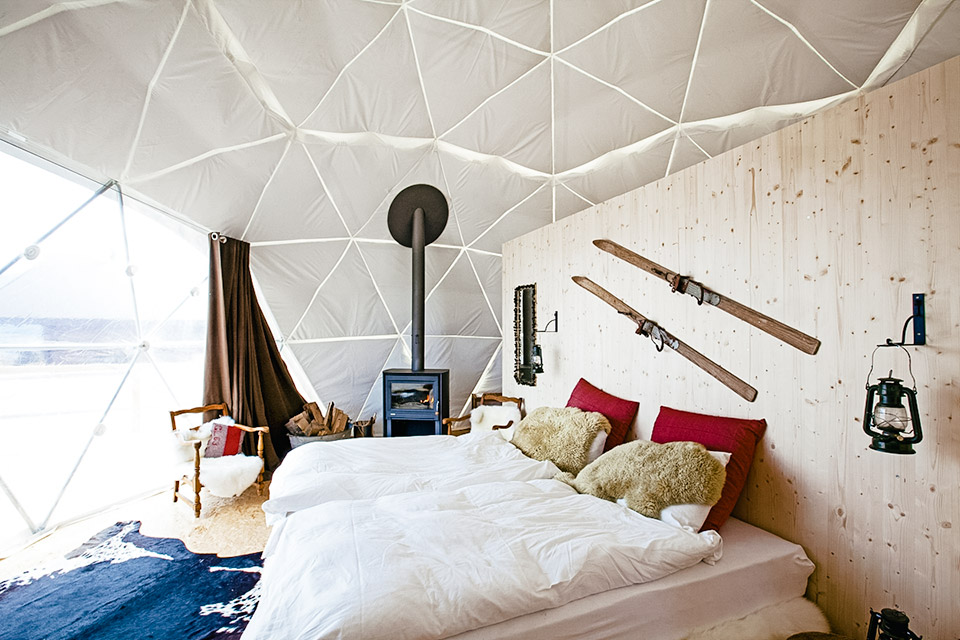 Whitepod is also in close proximity to several ski resorts, and there are private ski trails complete with private lifts if you want to avoid the commercial properties. If you decide to go in the summer time, there's plenty of hiking over lush green grass and through gorgeous forests.
If we could have anything in the world for Christmas, it would probably be this.