Alec Torelli is a poker professional originally from California, but travels the world full time with his wife, Ambra. Torelli has over $1.5 million in live tournament earnings (including two World Series of Poker final tables and two World Poker Tour final tables) as well as over $500,000 in online tournament earnings. Outside of poker he and his wife manage a million-dollar online business which travels the world with them.
These are the stories of their travels.
*****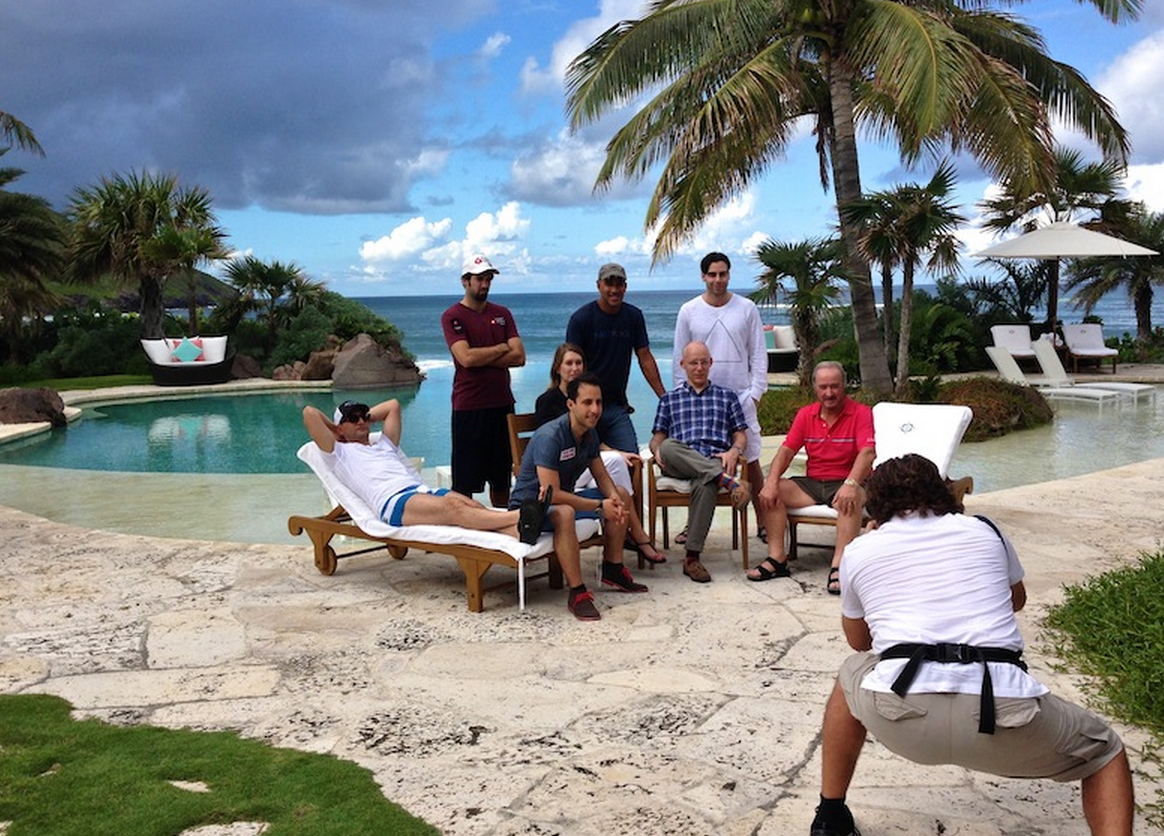 Our adventure to play the WPT Alpha8 St. Kitts started on the airplane ride over from Miami. We were seated next to Tim, a high end real estate agent at the incredible new development Christophe Harbor who would become our tour guide on the island.
Originally from Wilmington, North Carolina, he moved down here with his family and bought his dream home on a private beach. "I'm not sure what took me so long," he confessed. "I was just tired of it all: the grind, the cold, the drama."
Tim's story is inspiring: it's never too late to dream.
After neither our driver nor luggage arrived, Tim offered to drop us off at the Marriott, the hotel of choice for the poker tournament.
Exhausted from a long day of travel, we easily slept. We spent the next few three touring around the island. We like to arrive early to poker tournaments: not to do so seems pointless. Tournaments to me are about so much more than the poker: it's about the lifestyle, the opportunity to travel and explore a new place and culture, to see the world through a different reality.
And that's what we did: from the over priced limited selection of produce at the supermarkets to the exquisite historic churches, from discovering an organic farm that made fresh moringa juice to the Salt Plage, a local hangout to watch sunset and feel like an absolute king for an evening.
I was fortunate to connect with Lynn Gilmartin where we spent an afternoon with the camera crew filming a back story about me at the organic farm. Due to both of our natural interests, the conversation quickly shifted toward health, lifestyle and balance, and how they influence the ability of one to access a higher level while playing poker. It was both stimulating and exciting, especially on camera in front of what would be a national audience.
Arriving early also gave me time to prepare, both physically and mentally. I worked out hard every day and found clean, healthy food that I could take to the tournament to keep me alert in anticipation for the long days ahead. I reviewed hands, crunched numbers until I dreamt of them and studied the competition. It was a good feeling knowing that I was ready.
On game day I went through my normal pre game routine: a few minutes of gratitude, meditation and visualization, followed by a morning workout (high intensity cardio) and a healthy breakfast. I packed food for the day and caught the 11:30 am shuttle for the 30 minute trip to epic Christophe Harbor, which would host the tournament.
Despite a small turnout of less than 20 people, the WPT Alpha8 St. Kitts was quaint, manageable and personal. With so many staff and not as many players, the staff ensured our every need was met. The small numbers combined with the tranquil atmosphere also created a more intimate feel amongst the players. It took a different type of commitment to stay focused, that I was actually playing for hundreds of thousands of dollars. I enjoyed getting lost in the beauty around us and enjoying table talk with the Dan Coleman (whom I met for the first time during the trip), Jason Mercier and Jeff Gross, all of whom were at my table.
I ended the day with lots of chips, fueled by a strong bluff that got through against Bill Perkins late in the day.
Nine of us returned to battle it out for nearly $1,000,000 in prize money with Olivier Busquet leading the way. Joining us was Dan Coleman, Jason Mercier, Antonio Esfandiari, Bill Perkins, Talal Shakerchi, Kathy Lehne, Tony Guglietti.
I started off well, picking up pots vs. Bill Perkins, Jason Mercier and knocking out Talal. I was in a great position to reach the top 3 and make the money, but with seven remaining, everything changed. I felt the ground slip out from under me as I lost one pot after another. Chips move quickly in tournaments where the average stack is relatively short and before I knew it I found myself doing a post game interview.
Despite not cashing I wasn't upset afterwards, an internal sign that I played well and fought hard. Comfort for the professional must lie in knowing he played his best. In the end it was Jason Mercier who took down the title and $727,000 in prize money, adding another victory to his already impressive resume.
Following the main event we enjoyed an incredible night of high stakes action featuring a $20,000 charity tournament for the kids of St. Kitts. Of course, the night wouldn't be complete without 'Lodden Thinks' for $1,000 per point (which Dan Coleman insisted on doubling almost every round), and a fierce bache ball competition.
It was certainly the most beautiful place I ever played poker and one of the most positive memories I had about an event.
On the flight home, Ambra and I felt spontaneous, so we skipped our connection and stopped in Miami for a night to celebrate us, our journey and the incredible lifestyle that poker allows us to have.
Follow Alec Torelli on Twitter, Instagram, through Facebook, or via his popular blog.