Alec Torelli is a poker professional originally from California, but travels the world full time with his wife, Ambra. Torelli has over $1.5 million in live tournament earnings (including two World Series of Poker final tables and two World Poker Tour final tables) as well as over $500,000 in online tournament earnings. Outside of poker he and his wife manage a million-dollar online business which travels the world with them.
These are the stories of their travels.
The World Expo is the deemed to be the greatest of the all events. In years past it was customary for the leaders of thought, science and invention to travel great lengths to interact with other revolutionaries of their time. It was also a place to showcase the latest inventions of the world.
Expo dates back to 1851 in London, but the event gained world recognition in 1889 in Paris. The Eiffel Tower was reveled, displaying the possibilities of a new commercially available metal: steel.
This impressive trend of world changing discoveries followed:
Thomas Edison presented electricity in 1904 in St. Louis.
FDR made the world's first speech on television in 1939 in NYC.
The cell phone and a piece of rock from the moon were showcased in 1970 in Osaka.
In this year's theme, 'Feeding the Planet, Energy for Life' one expects an eclectic exposition: from solutions to world hunger and sustained agriculture, to super-foods that will make us live longer and some mind blowing futuristic invention, like genetically modified food infused with vitamins to balance our body's needs.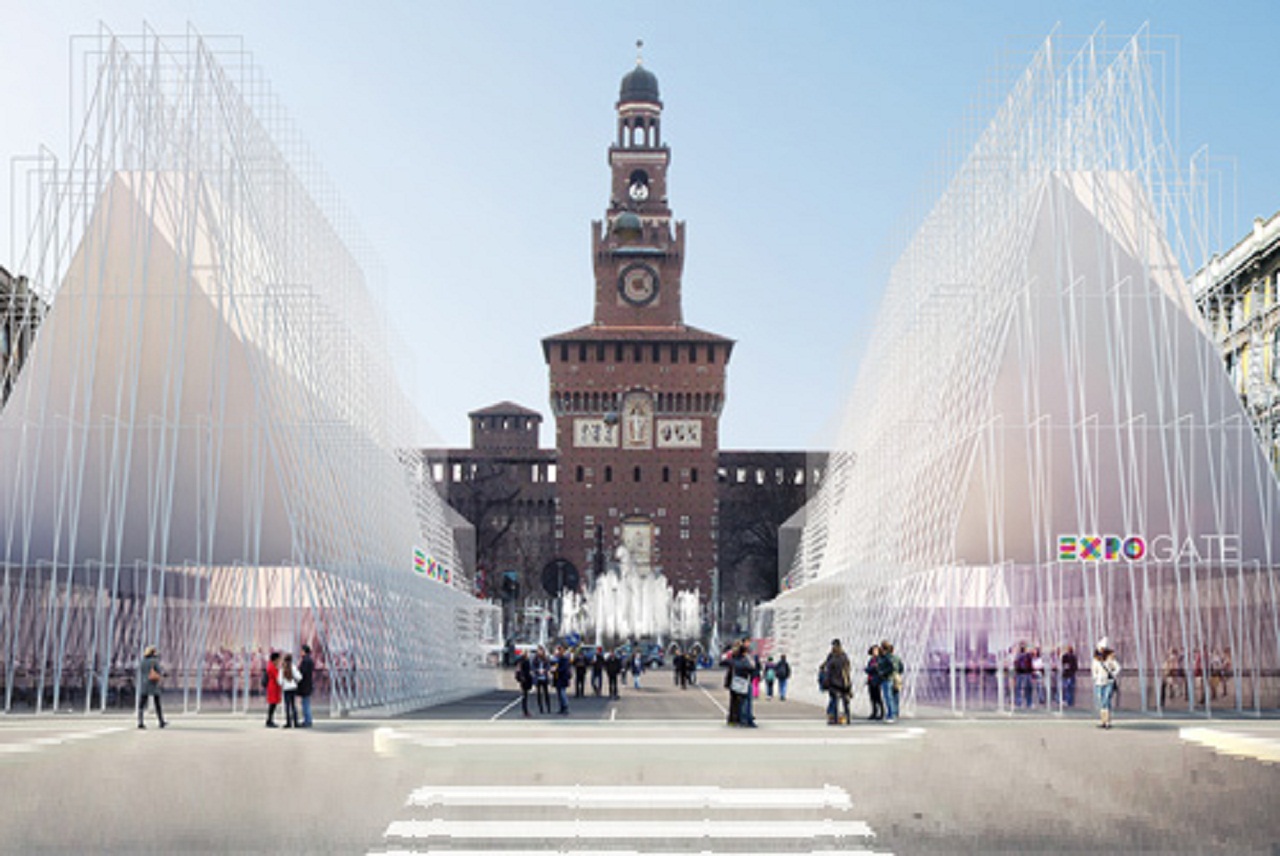 The exquisite architecture is the first thing one will notice upon arrival, where each booth has a well presented display of futuristic huts called pavilions. Most do a great job of representing their country with festive colors and national symbols. On the surface it's cool.
Inside, however, it's a different story.
The average country showcases their local food and articulates its importance in their agriculture. In Angola for example, we learned of the various uses of Cassava. In Oman, dates and honey.
I was surprised that rarely was any of the food actually served, and almost nowhere was it available for sale.
I was excited to learn, but why can't I try it?
In addition to the odd lack of products, what I found perturbing was the waste. I read an overview of the facts: an estimated 4 billion was spent to create Expo.
With 7 years to plan for the event, one would assume everything would be ready in time. Yet driving to the event I was overwhelmed by the countless unfinished parking structures, built solely for the event which will have no use once it's finished.

Pavilions for each countries cost roughly 40 million, totaling an estimated 1.4 billion dollars. All of it to be destroyed afterwards. The biggest environmental consolation I saw was the recycling bins they had, which divided trash, and a water fountain which, users were informed, would be transferred to the center of Milan to ensure it didn't go to waste.
Thank God for that. Burn $1,400,000,000, save $1,400.
I'm no mathematician, but this doesn't seem like the world's most innovative strategy to 'Feed the Planet' nor sustain 'Energy for Life.'
If the theme really was meant to be a didactic one, why not have the most renowned researchers come together, and then present ways to solve the world's problems pertaining to this year's theme?
Hardly anywhere was that showcased.
This could be done in addition to the circus display, whose purpose I couldn't quite understand. It seemed more that each country attempted to showcase its prowess, and it felt more like I was in an international tourist exhibit than anything.
The standard was set pretty high given the impressive history of inventions at Expo. So what life-changing discovery was revealed in 2015 in Milan?
The gist of what I saw can be surmised by the 'Feed the Planet' kind of food they showcased at the Italian and American pavilions (boldly titled 'Food 2.0'). A panini with prosciutto, and a pulled pork sandwich from the U.S.A food truck.
Is this really the future of our world? I hope not.
Oh, and on your way out, don't forget to thank the sponsors, Nutella, Coca Cola and McDonalds for their concern in sustainable farming, your personal health, and feeding the planet's 9 billion estimated people by 2050.
Follow Alec Torelli on Twitter, Instagram, through Facebook, or via his popular blog.