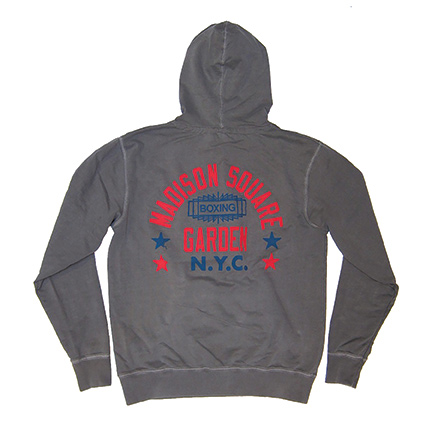 The boutique brand Roots of Fight has become one of the trendiest clothing companies in the world over the past few years.
Don't believe me? Take one look at the stuff worn by The Rock, Jay Z, Beyonce. Watch the Entourage movie. Watch any music video from any artist you can think of. Look at Leo DiCaprio's choice of clothing when he's relaxing.
Point is, Roots of Fight is everywhere. And they'll soon be even more ubiquitous with the Roots of Baseball line, which will pay tribute to Jackie Robinson and other legendary stick and ballers. But they remain committed to chronicling the history of the fight business, and today they're launching a new line dedicated to the "Fight of the Century."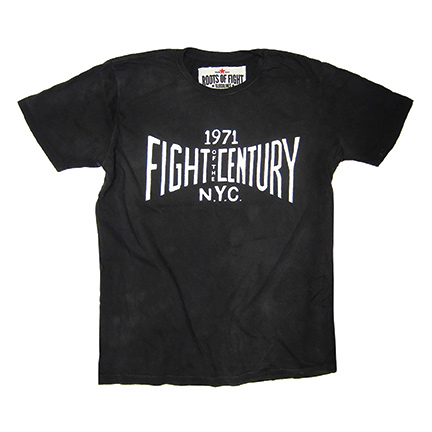 Held on March 8, 1971, the fight between Muhammad Ali and Joe Frazier went down at Madison Square Garden in New York City. Going into the fight, both them laid their own claim to being the legitimate world heavyweight boxing champion; Ali had defeated Sonny Liston in 1964 to capture the belt, but was stripped of it after famously refusing to enter the armed forces. While Ali was on the sidelines, Frazier won the championship, and was recognized by actual boxing authorities as the heavyweight champion. But that didn't stop Ali, the greatest of promoters, from calling himself the real heavyweight champion, and the hype for the fight reached a fever pitch.
It went the full 15 rounds. Frazier nearly knocked Ali out in the 15th round, and forced "The Greatest" to go home with a grossly swollen jaw. Frazier took home a unanimous decision, earning the title of undisputed heavyweight champion. Ali, because he was a smart man, would never admit that Frazier had fairly beaten him, instead calling it a "White Man's Decision." They would rematch two times after this, with Ali winning the second fight before also winning the legendary "Thrilla in Manilla."
Roots of Fight is honoring this legendary fight and the role both men played in it with the new Fight of the Century line, available now at the Roots of Fight online store and, if you are in Las Vegas, at the Las Vegas Fight Shop.