We've all been there before: never-ending hours at the poker table, with nothing to help us pass the time. That's the worst, and we'd like to help you avoid such situations.
So today, we're starting a new feature and giving you a list of television shows you can binge watch on your phone or iPad at the poker table while waiting for the terminally slow people you're playing with to hurry up and play.
All of these are available on HBO Go or Netflix, by the way. And if you don't have HBO Go, you can get HBO Now in a few weeks; that's the standalone service for those of you who don't subscribe to the cable channel. It'll work with Apple TV and all other Apple products.
Bloodline: This new Netflix original stars Coach Taylor from Friday Night Lights and focuses on a seriously jacked-up Florida family that owns a resort hotel on the beach. There's only one season so far, but it is a good one. There's a lot of downtime and a lot of talking here, but it all builds to something. We promise. And the acting is superb.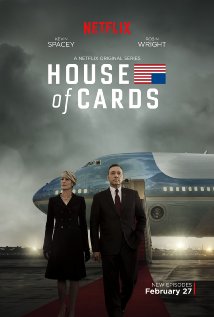 House of Cards: Another Netflix exclusive that stars Kevin Spacey as a conniving southern Senator who loves nothing more than playing the political game. This is the very definition of a binge-watching show; Netflix puts each new season online in its entirety at once, leading to us having days where the sun rises and sets outside without us even noticing. If you haven't already seen House of Cards, shame on you. There are three seasons, each with 13 episodes, so you'll have plenty to watch.
Game of Thrones: If you like dragons and swords and nudity and a lot of violence and blood, this is the show for you. HBO's smash hit (based on the series of books by George R. R. Martin) is one of the most popular shows on television, and is a driving force behind people subscribing to HBO. It's a tale of betrayal and lust and incest and war and, well, pretty much every other sin you can possibly think of.
The Sopranos: This is another show where, if you've never seen an episode, we can't be friends. We just can't. This was a landmark series and morphed television from a sitcom-based outlet into something that could be used to sell serious, well-done stories. Tony Soprano's story is nearly legendary at this point. Do yourself a favor: Watch this entire series. Now. We won't tell anybody.
The Jinx: This HBO documentary series is just six episodes long, so it doesn't offer much of a lengthy binge. But hoo boy, what's there is utterly fascinating and horrifying. This is the true life story of psychopathic millionaire Robert Durst, who has left a trail of dead bodies in his wake over thirty years, but somehow remained a free man until his recent arrest. There are portions of this show that will send chills down your spine, and you'll be left wondering how it can possibly be a true story. But it is.