Today was a big day for music lovers, but especially for music lovers who are also Apple nerds.
I happen to fall into both of those categories, and so I was excited to wake up this morning for the launch of Apple Music, the long-awaited new streaming service from the world's biggest company. It was made available to the public with the release of iOS 8.4 at 10 a.m. ET, and I was likely one of the first people in line to download the update.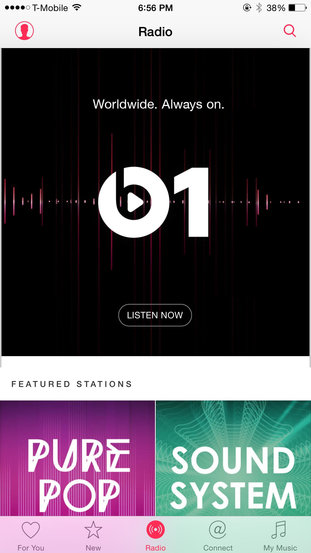 I wanted to get the new, updated Apple Music installed because I wanted to be ready for the launch of Beats One, the global streaming live radio station that launched an hour after Apple Music was released. I tuned in just in time to hear DJ Zane Lowe—who the company hired from Radio One to head up Beats One—play the first track. It was a track called City from British band Spring King, and it was awesome.
In fact, I've spent several hours with Apple Music today, but mostly with Beats One. I listened to it at the gym and while working at home, and I have to say: it is awesome. Lowe prides himself in finding the best emerging music on the planet, and he is good at it. I heard a bunch of tunes that I really liked, and I was instantly able to add them to a new "Beats One Discoveries" playlist I'd created just by hitting a button.
I believe Beats One will be the heart of Apple Music. It has a 24-hour schedule with live DJ's curating good music with little filler. Lowe has a habit of playing songs he really likes twice in a row. As in, consecutively. Normally, this would be a thing DJ's shouldn't do, but Lowe's exuberance makes it work. Today, he played the worldwide exclusive premiere of Farrell's new track "Freedom," and I was hooked. I listened to this song at least 50 times today, wagging my finger every time.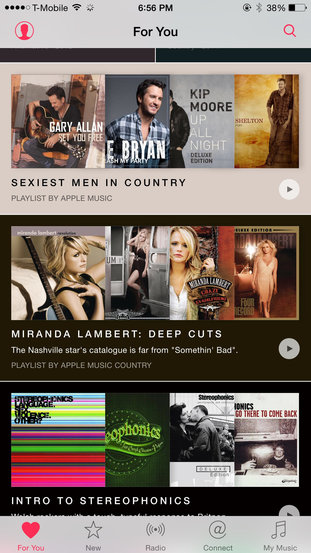 But perhaps you'd rather just curate the music you listen to on your own. That's fine, too. Apple Music is a little confusing at first, but once you figure it out, you'll have access to all 30 million tracks in the iTunes library, available for instant streaming on demand. You can create your own playlists or add your favorite albums to My Music. You can even save them for offline listening for those moments when you don't have an internet connection. I found a few good playlists devoted to workouts and moved them to My Music for easier access.
Another interesting section is the For You section, which is a hand-curated list of playlists and albums that Apple thinks you might be interested in. It starts by asking you to select your favorite genres and artists when you first sign up, and it also uses your iTunes purchase and library history.
These playlists aren't generated by an algorithm. They're made by actual Apple Music employees, though I confess I don't understand how they are ultimately presented to you. I'll chalk it up to magic.
I found myself interested in a few of the albums and playlists presented to me here. Intro to Stereophonics? U2: B-Sides? Inspired by the Stone Roses? I'm in.
Sexiest Men in Country? Not so much.
Still, you'll spend time here as much for discovery as anything else, just like you will with Beats One. You can mosey on over to the New section, which is exactly what it sounds like: a listing of new and hot albums and tracks. But it's way more fun to discover music the old fashioned way: by hearing it on the radio.
As mentioned before, Apple Music is a little confusing. The design is unlike anything else Apple has ever done. But once you get the hang of it, you'll be moving around in no time.
Is Apple Music a Spotify killer? Maybe. I've already canceled my Spotify subscription that I maintained for three years. But then, I enjoy having as much as possible in the Apple ecosystem. If that's not a big deal to you, you might prefer sticking with Spotify.
Regardless, every iPhone and iTunes user in the world receives an automatic three-month free trial, so there's no reason not to try it and find out for yourself. After the three month trial ends, it'll cost you $9.99 a month.