Last week, we took a look at five of the best Vegas Thai restaurants for those of you coming into town for the World Series of Poker this summer.
Today, we'll continue our series by looking at the five best burgers available on the strip. In a future installment, we'll look at the best burgers available around Vegas as a whole. But for today, we're focusing solely on the strip, for those of you who prefer to stay close to the Rio.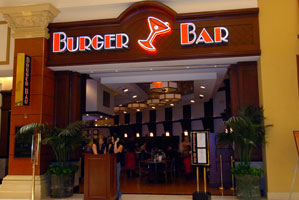 Burger Bar: Located in Mandalay Place (between Mandalay Bay and Luxor), Burger Bar brings a wide selection of burger offerings and an excellent craft beer menu. If you love Dogfish Head beer, you're in luck; Burger Bar has a "Dogfish Head Fridge" with an array of DFH's eclectic beers.
They have 5-6 pre-built burgers, and they're all delicious. But the real fun comes when you start creating your own burgers from the extensive list of ingredients. Fancy a lobster tail and crimini mushrooms on your salmon patty burger? Burger Bar has you covered.
Also: Be sure to try the zucchini fries. They taste like fried cheese, but they're veggies. Unbeatable.
Gordon Ramsey BurGR: The celebrity chef's addition to the burger community is popular, and there are long lines. But it's still worth making the trip to Planet Hollywood and braving the lines, because the burgers are fantastic.
They're the only burger joint on the strip to cook their burgers over an open flame using hard wood. The end result are juicy burgers packed with flavor. Our favorite is the Farm Burger, which features a patty topped with duck breast bacon, English sharp cheddar and fried egg.
Start off the evening with some Fury Chicken Wings, move on to a burger and then finish off with one of the incredible milkshakes.
Holsteins: This Cosmopolitan joint is akin to BurGR in that uses unconventional toppings. According to the menu, Holsteins focuses on "fresh, natural and organic ingredients," and brings a "funky, homegrown attitude to The Strip."
We're not entirely sure what that means, but here's what we do know: Holsteins makes very good burgers, and they're open until 2:00 a.m. on the weekends. And like BurGR, Holsteins has a selection of fantastic milkshakes. The big difference: Holsteins makes alcoholic milkshakes. The Red Velvet Cake Shake might just make you reconsider your existence, and the Maple Bacon shake awaits those of you with a bacon-y palate.
Shake Shack: This much-loved New York City chain made its debut at New York, New York (where else?) a few months ago, and it seems like it made the transition intact, with everything Shackers love about the New York locations. It's more fast food than a sit down joint like the rest of the places on this list, but it's still worth a visit.
Be sure to grab some of their famous frozen custard before you leave. No trip to the Shack is complete without the custard.
Bobby's Burger Palace: Like Gordon Ramsey, Bobby Flay is pretty much everywhere these days. His Burger Palace isn't as well-received as some of his other restaurants. But a trip to gulp down Flay's signature "Crunchburger" is still a trip worth taking.
The "Miami," which is Flay's attempt at crossing a burger with a Cuban sandwich, is pressed with ham, swiss cheese, pickles, mustard and mayo. Each burger is named after a city and features ingredients popular in each locale.